TEACHING SKATING IN AURORA FOR OVER 67 YEARS! A Community Skating Club with a Trusted Reputation for Teaching Excellence!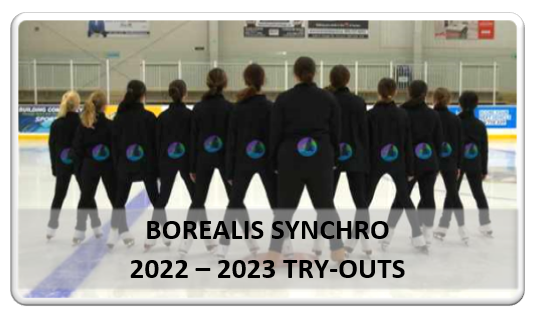 TRY-OUT DATE: Monday, April 4, 2022, 7:55pm to 9:00pm
TRY-OUT FEE: $20.00
PAYMENT OPTIONS: Cash / Debit / Visa / Master Card
LOCATION: Aurora Family Leisure Complex, 135 Industrial Parkway N. Aurora
A GREAT opportunity to join a team sport that incorporates all the things you love about skating!
If you have any questions please contact Coach Doreen: doreen.watson@live.com
Borealis 2022-2023 Registration Form
---
2021-2022 Season
Team Borealis skates on Wednesday night 7:45pm - 8:45pm at the Aurora Family Leisure Complex, 135 Industrial Parkway North, Aurora
Welcome to ASC BOREALIS Synchro Team
Coach: Doreen Durr
Synchronized skating, or "Synchro" is a specialized discipline of skating involving groups of eight or more skaters performing various group formations and maneuvers. The objective is for the team to perform as one unit executing circles, blocks, lines, wheels and intersections in unison to the music, while demonstrating quality edges, power and flow.
Important Notice: This is a team sport, it is important that all skaters show up to all practices in order to learn new skills, elements, and formations.
Important Prerequisite:
skater must be a registered member in good standing of a Skate Canada club

skater must have passed CanSkate Level 4 to be considered for the synchro program.

each team will have it's own prerequisites based on the level

other prerequisites may apply
Beginner Team:
for skaters level 4 STAR 1

skaters must not have reached the age of 12 by July 1, 2021

skaters must skate at least 1 other day per week at their home club aside from Synchro
Elementary Team:
for skaters STAR 1-3

skaters must not have reached the age of 15 by July 1, 2021

skaters must skate at least 1 other day per week at their home club aside from Synchro
If you have any questions please contact Coach Doreen: Doreen.watson@live.com
BOREALIS SYNCHRO THROUGH THE YEARS