TEACHING SKATING IN AURORA FOR 70 YEARS! A Community Skating Club with a Trusted Reputation for Teaching Excellence!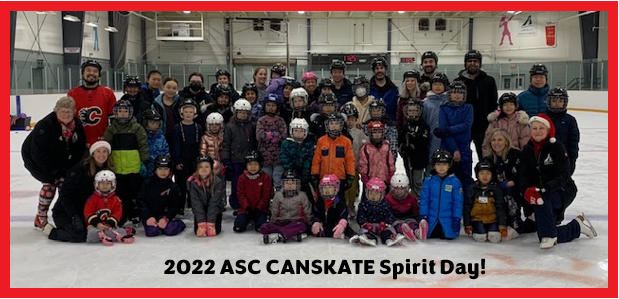 CanSkate Spirit Day
The Aurora Skating Club is so HAPPY with the return of our annual CanSkate Spirit Day which took place on Saturday, Dec. 17th, 2022 from 10:15am to 11:45am!
The turn-out was great, is was so nice to see so many parents and friends who came out to partake in the FUN.
A big THANK YOU to our Board Member volunteers who came to assist with check-in and serving hot chocolate!
For more pictures see our FUN PHOTO page
---
Every year the Aurora Skating Club hosts a CanSkate Spirit Day!
Winter 1 registered ASC CanSkate members are welcome to invite 1 friend or their parent(s) to come skate with them for FREE. Maximum 3 participants per CanSKate member.
The coaches prepare fun games for the skaters, and members from the Board of Directors provide hot chocolate and treats. Sometimes there are even take away gifts or prizes! It's always a really FUN day for all who attend.
IMPORTANT: Registration tickets are required, go to "PURCHASE" scroll down to "CanSkate Spirit Day Dec.17th" choose QTY # (number of participants) click ADD.
In comment section include full name of each participant, even the canskate member.
This is on a first come, first serve basis, maximum capacity on the ice is 36 skaters.
In adherence with Skate Canada safety regulations; all skaters and guests are
required to wear a hockey helmet.
Please note the Aurora Skating Club

does not

provide helmets or skates.